Universal Studios Florida is the original theme park at the Universal Orlando Resort.
Universal Studios Florida opened its gates officially in June of 1990. The theme park pre-dates the entire rest of the resort, all of which came later.
The other theme park Islands of Adventure was built on half of Universal Studios' original parking lot and where a retention pond was!
Universal Studios does not follow to a traditional theme park arrangement, which is a single-entry corridor that leads to a series of lands arranged in a circle.
Instead, Upon entering the park you are at the beginning of Plaza of the Stars, a road that runs straight to the rear of the park. There are a few attractions and shops to the left of this road, but the majority of the park is to the right, arranged around a large lake..
As you proceed up Plaza of the Stars, there are four streets that lead off to the right, as well as three short dead ends to the left. The first two streets to the right are Rodeo Drive and Sunset Boulevard, Rodeo Drive turns into Hollywood Boulevard and merges with Sunset Boulevard to go around the east side of the lake. 7th Avenue and Delancey Street are the second two Streets to the right and they both join South Street, which goes around the west side of the lake. there are a few side streets running between these streets as well making the areas feel like city neighborhoods.
The park is divided into eight themed areas:
Production Central
New York
San Francisco
The Wizarding World of Harry Potter – Diagon Alley
World Expo
Springfield, U.S.A.: Home of the Simpsons
Woody Woodpecker's Kid Zone
Hollywood
In this overview I use the following shortcuts:
Attractions
Height Restrictions – Some of the more thrilling attractions have height restrictions. If children are shorter than the set limit, they cannot experience the attraction. Universal will not bend on these restrictions as they are for safety purposes; in many cases they have to do with the attraction seating and associated restraint capability. Some attraction require a supervising companion (someone who meets the height requirement) if a rider is under a certain height. And others have a max height requirement.
Attractions with height restrictions will be designated like this: (H33) the H designates height restriction and the following number designates how many inches tall you must be in order to ride. In this example (H33) you must be 33 inches tall to ride. Universal staff will measure those in question.
Many attractions have a supervising companion height requirement, that is if you are not above the designated height, you must ride with someone who is. These are designated like this: (AH48) the A for adult, and the rest as just above.
Attractions with a max height will be designated like this: (H36-56) with 36 inches being the minimum and 56 the max.
No where is this more confusing than at Island's of Adventure's Pteranodon Flyers – (H36-56) (AH48). where you must be between 36 and 56 inches to ride, but if you are not 48 inches must be accompanied by someone who is.
Express Pass – Attractions that participate in Universal's pay for short ride wait times program will be designated like this: (EP).
Some attractions have a Single Rider line. single riders will be used to fill in unused seating on rides. Standby waits to ride can be greatly shortened by using the single rider line. If you are part of a party that uses this line you almost certainly will not ride with others in your party. Look for (SR) in the attraction descriptions.
Universal Orlando Resort offers a Virtual Line option for a few attractions. You sign up via your Universal app (as early as possible in the day) in order to be assigned a time to show up at the ride queue. Rides with with this option are designated as: (VL)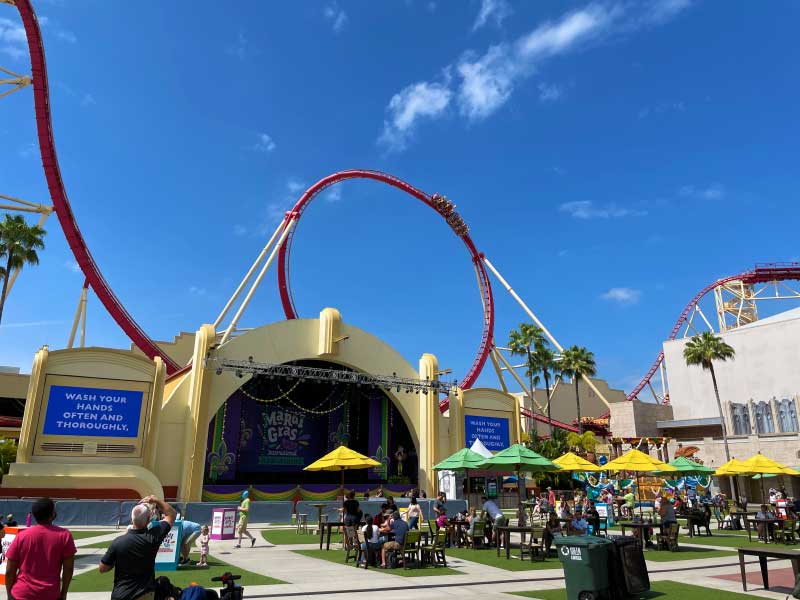 Universal Orlando Resort's attractions can be grouped into four basic types:
Thrill – Big, fast, thrilling rides such as big coasters and drop rides. Best for Adults, Teens (13–17), Tweens (7–12). Designated: (Thrill)
Video – 3D or 4D (3D with motion) thrilling rides mostly using big video screens (2D or 3D) to display scenery while you sit in motion controlled seating or ride in in a moving vehicle. Best for Adults, Teens (13–17), Tweens (7–12). Designated: (Video)
Water – Splash rides where you will get wet. Best for Adults, Teens (13–17), Tweens (7–12). Designated: (Water)
Kid – Slower paced kid friendly rides. For the whole family. Designated: (Kid)
Some thrill rides prohibit loose articles. These have free lockers located nearby. You will pass through a metal detector prior to entering to ensure you don't bring things along. At Universal Studios the ride is: Hollywood Rip Ride Rockit.
Universal's theme parks are overflowing with arcades and carnival games of skill (chance) that you can play for a fee.
Food
While other theme parks have been aggressively innovating theme park fast food since the mid 80's, Universal Orlando Resort has not for the most part! Most Universal theme park food is adequate, in that it will fill you up, but don't expect to say,"Wow, that's great!" (or in some cases even "That's good"!). When a location is better than this base standard I will certainly mention it!
Table service Restaurants in the parks are quite to very good!
I'll cover all of the traditional restaurants in the park. carts that are moveable and stands that just offer drinks and simple snacks are generally not covered.
I'll give a brief overview of the type of food available at each restaurant as well as the type of restaurant, meals served, and average cost.
Restaurant types consist of table service, counter service, buffet, and grab-and-go.
Look for these keys to the rough cost of restaurants and the meals they offer:
$ = Less than $15 per adult
$$ = $15 – $30 per adult
$$$ = $30 – $60 per adult
$$$$ = over $60 per adult
Meal Abbreviations:
B – Breakfast
L – Lunch
D – Dinner
S – Snacks
Almost all locations in Islands of Adventure serve alcohol. At some just beer and wine, while others have a limited or full bar.
Universal Orlando Resort serves coke products, with many quick service locations offering Coca-Cola Freestyle.
Refillable souvenir mugs are available for purchase at many locations that may be used at all Coca-Cola Freestyle locations park resort wide.
Some dining locations have Mobile Order available. You can order ahead and pay via your stored card on your Universal app. These restaurants are designated with a (MO).
A very few table service restaurants within the theme parks take reservations these are indicated by (RES).
Universal Orlando Resort has offered prepaid dining plans in the past, but they did not returned after the 2020 shutdown. It is unknown if they will return or not.
Arrival
Both of Universal Orlando Resort's theme parks have two methods of entrance:
The Main Entrance for each park – All guests will start their day by entering one of the parks via the main entrance.
The Hogwarts Express – This train connects stations in the Harry Potter areas near the rear of each park.
A Park Hopping Ticket is required to ride Hogwarts Express. All trips are one-way, you must get off at your destination and get in line again to return to the park you started in, if desired. Standby waits for this mode of transport can be long (there is a shorter Express Pass Line) and the half mile trip on the train takes about five minutes. In some cases you might be better off walking between parks unless you want to experience this ride.
You will arrive at the main entrance to Universal Studios Florida by walking, either from your Universal Hotel, the Water Taxi Dock, or the Bus Station & Parking Structures.
Those staying at a Universal Orlando Resort's Main Campus Hotel may either walk or ride the Water Taxi. They will process through security either near the end of their walk or prior to getting onboard their boat.
Those staying at some of the further Universal Hotels will board a bus at their hotel and arrive at the main bus station and process through the Main Security Rotunda. They will then walk through Universal CityWalk to the Islands of Adventure entrance.
Those driving their car to Universal will park in one of the two the parking structures or valet park and process through the Main Security Rotunda. They will then walk through Universal CityWalk to Islands of Adventure.
Those arriving at Universal via ride hire transportation will arrive on the top level of one of the parking structures and process through the Main Security Rotunda. They will then walk through Universal CityWalk to Islands of Adventure.
See my Universal Orlando Resort Security Overview
Entrance
At the park entrance is a line of ticket booths with the entry scanner stations located behind them. Lines to enter are often shortest to the far left.
A good portion of the walkways in Hollywood Studios are designed to look just list city streets, with roadways, curbs and sidewalks and buildings lining the streets.
Next we'll take a tour of the park. We'll head straight to the back, then circle around clockwise back to the front.
Production Central
Production Central is your entryway into Universal Studios and the path towards the rear of the park via the street named Plaza of the Stars.
As you enter the Production Central you will encounter all of the typical guest services, Information, Stroller and Scooter Rentals, Locker Rentals and more.
As you walk along Plaza of the Stars on the left side of the street you will find Merchandise locations, Rip Ride Rockit and Minion Mayhem. Then you'll come to Universal Music Plaza, a large plaza with a stage.
On the right side of the street you'll encounter more attractions and dining. Production Central extends a block to the right opposite the Universal Music Plaza on the left where you'll find Transformers.
At the intersection just past the plaza, Plaza of the Stars enters New York.
Attractions
Despicable Me Minion Mayhem – (H40) (AH48) (EP) (SR) (VL) (Video) – IN this 3-D stationary motion simulator ride you become a minion and are launched into an unforgettable trip through Gru's super villain laboratory. 4-D effects such as water sprays/mist are also used.  Total ride time 28 minutes. Seating 8 riders in 2 rows, 4 across. Universal has announced that this attraction will convert to 2-D deleting the need for 3-D glasses.
Hollywood Rip Ride Rockit – (H51) (EP) (SR) (Thrill) (Loose Articles Prohibited) – Is a large, fast roller coaster. As you strap in, you'll pick the song you want to hear above your own shrieks. Adrenaline pumping and music thumping, you'll climb toward the sky at a 90-degree angle and tackle the first ferocious drop. Topping out at 65 mph, this rip-roaring ride weaves through the buildings of Production Central. Total ride time 1:39 minutes. Seating 12 riders seated 2 across. Lockers for loose items are provided across from the entrance.
TRANSFORMERS: The Ride-3D – (H40) (AH48) (SR) (VL) (Video) – The rides follow the Autobots as they battle the Decepticons who have come to earth to steal the AllSpark. This ride uses moving vehicles, huge 3D screens (3D glasses required) and large physical sets in a dark setting. 4-D effects such as water sprays/mist are also used.Vehicle motion is herky-jerky throughout. Total ride time 4 and a half minutes. Riders per vehicle 12 in rows of 4.
Shrek 4D closed permanently January 2022 and a replacement, rumored to be a Minions themed moving walkway ride, is under construction.
Characters
Transformers – Meet Bumblebee and other Transformers outside the attraction.
Dining
Studio Sweets – Counter Service, $ S  – Assorted handmade treats, caramel apples, cotton candy, homemade fudge, gourmet cookies, and self-serve candy.
Universal Studios' Classic Monsters Cafe – Counter Service, $ LD  (MO) – Barbecue restaurant featuring pulled pork, brisket, and ribs plus rotisserie chicken, pizza, and salad.
Shopping
Betty Boop Store – Universal Studios themed mugs, apparel, gifts and more in this Art Deco store.
Hello Kitty – Browse apparel, accessories, plush toys and souvenirs while indulging in sweet treats
Super Silly Stuff – Minion themed toys, apparel, candy, accessories, Gru-approved gadgets and more.
Supply Vault – Official TRANSFORMERS action figures, apparel, hats, magnets, mugs, and more.
Universal Studios Store – Official source for all things Universal. With everything from character-inspired apparel, toys, and mugs, to hats, backpacks, and gifts
New York
Continuing to the rear of the park from Production Central you will enter New York. A recreation of 30 Rockefeller Center that houses Race Through New York is on the left and a park is on your right. Past the park make a right on Delancey Street, past the Mummy and on to the majority of dining in New York and the rest of the park.
Attractions.
Race Through New York Starring Jimmy Fallon (H40) (AH48) (EP) (VL) (Video) – A fun-filled race through, below and above New York City. Board the unique "flying theater" and you'll speed through the busy streets of midtown Manhattan, soar over skyscrapers, even dive into the East River as you hurtle neck and neck towards the finish line. The ride experience is in 4-D and features various effects such as smells of New York-style pizza, wind and water spritzes as well as a full immersive motion experience. Ride vehicles seat up to 72 people.
Revenge of the Mummy (H48) (EP) (SR) (Thrill) – This indoor rollercoaster employs 3 separate launches during its story line. Prior to and between launches the storyline progresses. The first launch is backwards, the second accelerates you to 40 mph and the third to 45. There are also sever times when the ride vehicle drops, once 39 feet. Total ride time is 2:57 minutes and features a top speed of 45 mph.Seating 16 seats per vehicle in rows of 4.
Palace Theater Arcade – A pay to play arcade.
Characters
The Blues Brothers Show – Jake and Elwood—wearing their trademark black suits, porkpie hats, and dark shades, take to the stage throughout the day after arriving on scene in the Bluesmobile, their 1974 Dodge Monaco sedan.
Kids Areas
None
Dining
Auntie Anne's Pretzels Counter Service, $, S – A typical Auntie Anne's location.
Finnegan's Bar & Grill – Table Service, $$, LD (Res) – This traditional Irish-American pub is both a lively bar and a full-service restaurant. Featuring authentic Irish dishes like Bangers and Mash, Shepherd's Pie, and Guinness Beef Stew as well as classic burgers, salads and more.
Häagen-Dazs Counter Service, $, S – A typical Häagen-Dazs location.
Louie's Italian Restaurant – Counter Service, $, LD (MO) – Italian favorites like pizza, pasta, meatball subs and salads, plus creamy gelato and Italian ice.
Starbucks – Counter Service, $, S – A typical Starbucks location.
Shopping
The Film Vault – Motion picture memorabilia from classics like Back to the Future, Ghostbusters, and Jaws, Cinematic keepsakes, including decor, apparel, and souvenirs inspired by some of Universal's most-loved films, rides, and attractions.
Park Plaza Holiday Shop – featuring holiday-themed gifts, souvenirs and ornaments inspired by The Wizarding World of Harry Potter™, The Simpsons, Despicable Me, and more.
Rosie's Irish Shop – Honor your Irish heritage (or your affection for St. Patrick's Day). You'll find quirky tees, ball caps, barware, and more, as well as traditional Claddagh rings, family crests, and decor.
Sahara Traders – Discover a bazaar of treasures including Mummy-themed apparel, toys, jewelry, gifts, and more.
The Tonight Shop – Souvenirs from Race Through New York. You'll find themed mugs, apparel, gifts and more from The Tonight Show and NBC.
San Francisco
San Fransisco sits along the rear of the park between New York and The Wizarding World of Harry Potter – Diagon Alley. It buts up against the central lake and has several waterfront locations.
Attractions

Fast And Furious – Supercharged (H40) (AH48) (EP) (VL) (Video) – Join the Fast & Furious crew for an immersive experience. During the pre-show step into a re-creation of the crew's headquarters filled with actual movie props, supercharged vehicles, and live characters. Ride along with Dom, Letty, Hobbs and Roman on a street chase in the middle of the high-octane world of the Fast & Furious films. Ride vehicles are trackless and made to look like tour buses. Each bus holds 48 people, with 6 riders per row. As the bus proceeds through the attraction you'll experience multiple scenes via video screens some stationary, some simulating high speed chases.
Characters
Beat Builders – Enjoy percussion, dance, and jokes from this crew of workers. Their instruments are typical job site tools.
Kids Areas
None 
Dining
Chez Alcatraz – Counter Service, $, S – Create your own cocktail hour with cold beer, mixed drinks, non-alcoholic refreshments and appetizers.
Lombard's Seafood Grille – Table Service, $$$, LD (RES) – One of the best theme park restaurants at Universal Studios Resort! Seafood is Lombard's specialty with fresh favorites like clam chowder. If you prefer turf to surf, there's also burgers, sandwiches, salads and more.
Richter's Burger Co. – Counter Service, $, LD (MO) – Themed menu items such as The San Andreas sandwich and The Aftershock burger, as well as traditional favorites like grilled chicken salads and apple pie.
San Francisco Pastry Company – Counter Service, $, S (MO) – Layer cakes, iced éclairs, pies, and breakfast items both sweet and savory. You'll also find fresh fruit, paninis, and sandwiches perfect for a healthy snack or quick lunch.
Shopping
San Francisco Candy Factory – Freshly made fudge, caramel apples, gourmet cookies, and bulk candies in every color and flavor.
Custom Gear – Fast & Furious themed apparel and accessories, car decals and novelty license plates, coffee mugs, key chains and more.
Amazing Pictures – Have your picture superimposed on magazine covers, famous movie posters, and more.
The Wizarding World of Harry Potter – Diagon Alley
This land is highly themed to represent London and the hidden Diagon Alley from the Harry Potter franchise. As you explore this land, you'll first encounter London with it's King's Cross Station, store fronts, and apartments. Look for a brick wall with access to Diagon Alley which it is an economic hub of the Wizarding World.
Diagon Alley is fantastically themed, containing many of the familiar shops and dining locations from the franchise. Be sure to check out the Ukrainian Ironbelly dragon atop Gringotts Bank from Harry Potter and the Deathly Hollows. This beast is said to belch fire down towards the crowds below. Listen for it to growl leading up to the event, which usually happens every 10 to 15 minutes.
Interactive Wands
"With a gentle flick of the wrist and the right incantation, Interactive Wands allow you to cast spells to create amazing magical experiences throughout Hogsmeade and Diagon Alley Wave your wand, recite the proper spell, and watch as the magic unfolds. Remember to speak slowly—with the proper practice you are sure to see extraordinary results."
Wizarding students can purchase wands in both Harry Potter lands (or before the vacation on universal orlando dot com) to use at various stations around both lands to "cast spells" in the real world through interactive interfaces. Students wave their wand in specific patterns and speak the spell in order to achieve the desired effect. Experienced wizards are on hand to help as getting the motions right can be challenging.
Attractions
Harry Potter and the Escape from Gringotts (42) (AH48) (EP) (SR) (Thrill, Video) (Loose Articles Prohibited) – Harry Potter and the Escape from Gringotts is an indoor roller coaster featuring characters, scene , and the plot from Harry Potter and the Deathly Hallows – Part 2, when Harry Potter, Ron Weasley and Hermione Granger are attempting to infiltrate Gringotts Bank in order to retrieve a Horcrux as part of their mission to defeat Lord Voldemort. The ride uses 3-D glasses, video screens, and physical sets to tell the story. Total ride time 5:00 minutes. Seating 24 riders seated 4 across. The ride has no inversions.
Hogwarts Express from Kings Cross Station (EP) (Kid) – The Express is both an attraction and mode of transportation. The attraction portion, besides being immersed in Harry Potter's world is the experience while riding the train from Diagon Alley to Hogsmead. Riders are seated in a closed train car cabin on two bench seats facing each other. You will be guided down the trains hall to your assigned cabin. Cabins hold about eight people and you may be seated with other parties. A large "window" (video screen) fills most of the sidewall of the cabin, while opaque windows face the hall from which you entered.
As the train pulls out of the station you'll see London pass by as you head to the countryside around Hogsmead. While on your journey you'll see various Potter characters outside the train and on the opposite side of the cabin you'll see and hear silhouettes of Harry, Hermione, and Ron talking and dealing with issues on the train.
As transportation, the train takes you from Universal Studios to Islands of Adventure in about 5 to 10 minutes (not counting your wait time). A Park-to-Park ticket is required to ride. If you'd like to return to Islands of Adventure, you'll need to exit and get back in line at King's Cross Station.
Characters
Celestina Warbeck and the Banshees – Sway and groove to the dulcet tones of wizarding world sensation (and Molly Weasley's favorite singer), Celestina Warbeck and the Banshees. The swinging show features never-before-heard songs including 'A Cauldron Full Of Hot, Strong Love', 'You Stole My Cauldron But You Can't Have My Heart', and 'You Charmed The Heart Right Out Of Me'.
Knight Bus – Parked KIng's Cross Station is the purple, three-storied Knight Bus, which stranded witches and wizards flag down with their wands for emergency transport. Passers-by can look in the windows and see curtains, beds, an ornate chandelier, and a talkative shrunken head that occasionally converses with the bus conductor.
The Tales of Beedle the Bard – Gather 'round for a stage show presented by the Wizarding Academy of Dramatic Arts. These adept players perform a trunk show using stylized scenic pieces, props and puppetry.
Kids Areas
None
Dining
Eternelle's Elixir of Refreshment – Counter Service, $, S – You'll find a variety of elixirs that, when combined with water, transform before your eyes into unique, colourful, and flavourful beverages. You can choose from Fire Protection Potion, Babbling Beverage, Draught of Peace, and Elixir to Induce Euphoria.
Florean Fortescue's Ice-Cream Parlour – Counter Service, $, S – Hand scooped and soft-serve ice-creams with fantastic flavours like Butterbeer, Granny Smith, Earl Grey and Lavender, Chocolate Chili, Sticky Toffee Pudding, Salted Caramel Blondie, Chocolate and Raspberry, and more; along with Pumpkin Juice, ciders, teas, and water.
The Fountain of Fair Fortune – Counter Service, $, S (MO) – Serves a variety of beers and other beverages (both alcoholic and non-alcoholic). Non-alcoholic offerings include Butterbeer, Frozen Butterbeer, Pumpkin Juice, Gillywater (bottled water), and more.
The Hopping Pot – Counter Service, $, S – cool off with a variety of drinks including Butterbeer™ (regular or frozen, and ice-cream), Pumpkin Juice™, Tongue Tying Lemon Squash, Otter's Fizzy Orange Juice, Peachtree Fizzing Tea, Fishy Green Ale, our Wizard's Brew and Dragon Scale beers, and more.
The Leaky Cauldron – Counter Service, $, BLD (MO) – Traditional British fare served here includes Bangers and Mash, Fisherman's Pie, Toad in the Hole and Ploughman's Platter, plus a Kid's Menu offering Fish And Chips and more.
Treats From The Harry Potter Books That You Can Get in Universal Studios!
Disney World versus Universal Orlando Fish Fry Throw Down
Shopping
Borgin and Burkes – Death Eatermasks, skulls, Harry Potterfilm costume replicas, apparel, accessories, jewelry, and collectibles.
Globus Mundi – The official travel agency of the Wizarding World. Pick up essentials like passport holders and luggage tags, along with souvenirs including t-shirts, hoodies, travel mugs, drawstring bags, pins and keychains.
Gringotts Money Exchange – Ask a Gringottsgoblin a question and see what he has to say. Plus, trade your U.S. currency for Gringottsbank notes in $10 or $20 denominations to be used for purchases within Diagon Alleyand Hogsmeade, and at select locations throughout Universal Orlando Resort. Unused wizard money can be taken home yielding a profit for Universal or transferred back into U.S. currency at Guest Services.
Madam Malkin's Robes for all Occasions – Authentic replicas of Hermione's Yule Ball gown. You'll also find Hogwartsuniforms, ties, scarves, sweaters, and cardigans as well as jewelry. And don't forget to top it all off with a wizarding hat.
Magical Menagerie – You can purchase a variety of plush toys including Crookshanks, Fang, Buckbeak, Fluffy, and Scabbers. Also available are Cornish pixies, ferrets, Pygmy Puffs, and an assortment of owls, including Pigwidgeon and Hedwig.
Ollivanders Wand Shop – Purchase your own unique wand, wand sets, character wand replicas, or Interactive Wand. You can also witness a unique interactive experience and see a wand choose a wizard.
WIth an Interactive Wand you may cast spells throughout both of Harry Potter's lands. With a gentle flick of the wrist and the right incantation, Interactive Wands allow you to cast spells to create amazing magical experiences throughout Diagon Alley and Hogsmeade. Universal's experienced wizards are standing by at each location to assist with spells and wand technique!
Quality QuidditchSupplies – Quidditchsweaters, brooms, Golden Snitches, Bludgers, Bludger bats, Quaffles, and more. You can show your team spirit with apparel, hats, pennants, and accessories themed around your favorite teams.
Scribbulus – Find all the authentic writing supplies a witch or wizard could need including ink and inkwells, feather quills, as well as parchment and writing paper. You can also find notebooks and journals, bookmarks and backpacks, stationery sets and seals, as well as envelopes and postcards.
Weasleys' Wizard Wheezes – Shop for all manner of mischief such as magical jokes, tricks, and toys including Pygmy Puffs, U-No-Poo pills, Skiving Snackboxes, Puking Pastilles, and more.
World Expo
After leaving Diagon Alley, the park begins to circle back around the lake and heads back towards the entrance. Leaving Diagon Alley, you can either enter World Expo or take the footbridge across the end of the lake to where World Expo and Springfield meet.
World Expo is a little used section of the park, with only one attraction. There was a second attraction ,Fear Factor Live, in the big stadium to the left of MIB, but it has closed permanently.
Attractions
MEN IN BLACK Alien Attack – (H40) (AH48) (EP) (Video) – This is Universal's version of Disney's Toy Story Mania where riders shoot aliens with laser beams for points.
Characters
None
Kids Areas
None
Dining
Coca-Cola Refresh Shop Counter Service, $, S – Fill up your Coke Freestyle cups or just cool off in the air conditioning.
Shopping
MIB Gear Shop – Official MIB apparel, futuristic toys from across the galaxy, and "highly classified" alien artifacts and souvenirs.
Springfield, U.S.A.: Home of the Simpsons
Springfield is across the lake from Diagon Alley. Here you'll enter the world of the Simpsons and see many of the locations and characters from the show.
Attractions
Kang & Kodos' Twirl 'n' Hurl (AH48) (EP) (Kid) – Pilot your very own flying saucer, swooping up and down. Universal's version of Disney's Dumbo ride.
The Simpsons Ride (40) (AH48) (EP) (Video) – An indoor simulated rollercoaster ride (uses motion and 3-D glasses), where you'll careen and crash through the park with Homer, Marge, Bart, Lisa and Maggie in an over-the-top non-stop exhilarating adventure. Keep an eye out for cameos from some of Springfield's fan-favorite characters as you adventure through the town.
Characters
The Simpsons Character Zone – Meet and take pictures with various members of America's favorite family as well as other residents of Springfield.
Kids Areas
None.
Dining
Bumblebee Man's Taco Truck – This is one of the few occasions where Universal gets fast-food right. Great tacos! Choose from Korean beef, carne asada, and chicken tacos, as well as Duff Beer, Buzz Cola, and Coca-Cola fountain drinks. It's muy bueno to the last chomp.
Duff Brewery (Counter Service) $, S – Grab an icy cold glass of Homer's favorite suds and relax in the open-air bar.
Lard Lad Donuts – Mmmmm, donuts. Here you'll find giant pink-iced donuts, Brain Freezin' D'oh-Nut Sundaes, and more.
Moe's Tavern – Step inside Springfield's most recognizable pub and cozy up to the bar where you can enjoy a real Duff Beer, locally brewed exclusively for Universal Orlando Resort.
Simpsons Fast Food Boulevard (Counter Service) $, LD (MO) – The following counter service locations are all small locations that share a common dining area.
Cletus' Chicken Shack – Choose from the Chicken and Waffle Sandwich, Double Batter Chicken Platter, Chicken Thumbs and more.
Flaming Moe's – offers all the drinks available in Moe's Tavern, as well as a variety of other specialty fruit-flavored beverages.
The Frying Dutchman – Here you can try the Basket O' Shrimp, the Basket O' Calamari, the Basket O' Bait (fried fish, shrimp, and calamari), Battered and Plattered Fish, or the Clam Chowd-arr.
Krusty Burger – Try the legendary Krusty Burger, Clogger Burger, Ribwich, Beyond Burger, Heat Lamp Dog and more.
Lisa's Teahouse of Horror – Wholesome and delicious pre-packaged items are available at this satisfying stop on Fast Food Boulevard, including salads, veggie sandwiches, turkey wraps, hummus, fruit plates, fruit cups and assorted yogurts.
Luigi's Pizza – Here you'll find fresh individual pizza pies including the Cheese Pizza, Meat Hater's pizza or the Meat Liker's pizza.
Shopping
Kwik-E-Mart – all the convenience store staples every Simpsonsfan will love. Try a Duff A L'Orange or a Lard Lad donut. Also, take home Simpsons-themed toys, apparel, books, souvenirs and more.
Woody Woodpecker's Kid Zone
This is Universal Studios land dedicated entirely to young kids. It's entrance is between Springfield and Hollywood. A large portion of the area is dedicated to kid's play areas where they can blow off some steam!
Attractions
Animal Actors On Location! (Show) – See some of the most talented animal actors from movies and television performing in a hilarious mix of video segments, live skits and audience interactions. With a menagerie of vibrant birds, mischievous pups, agile cats and more, it's a hoot for the whole family.
E.T. Adventure (H34) (AH48) (EP) (Kid)  – Board your flying bike and take off on a thrilling (but gentle) ride through the sky. You'll dodge bad guys and soar into the stars where his magical home awaits, filled with wondrous otherworldly creatures.
Woody Woodpecker's Nuthouse Coaster (H36) (AH48) (EP) (Kid) – This thrilling kid-friendly coaster gently swoops and turns through Woody's very own nut factory,
Characters
Meet SpongeBob SquarePants – Meet SpongeBob SquarePants and Patrick inside his store, SpungeBob StorePants.
Kids Areas
Fievel's Playland – Kids can explore a whimsical playground filled with oversized props. They can climb a 30-foot spider web, crawl through giant tin cans, cross swaying rope bridges, explore an enormous cowboy boot, splash in a 1,000-gallon cowboy hat and take on a twisting 200-foot water slide.
Curious George Goes To Town – Enter the town's cartoonish buildings and grab a pump, hose or lever in the water play area. Discover activities for inquisitive little ones in the Animal Show tent. And head to the Man with the Yellow Hat's Ball Factory to throw, blast, and launch thousands of soft foam balls.
Dining
KidZone Pizza Company (Counter Service) $, LD – choose from pizza, pizza fries, and milkshakes for an easy, on-the-go meal. Sweeten the deal with a hot funnel cake or cool sundae that's perfect for sharing.
Shopping
E.T.'s Toy Closet & Photo Spot – Plush toys, figures, apparel, and extraterrestrial trinkets. And you can also recreate two classic E.T. movie moments in specially designed photo op areas.
SpongeBob StorePants – Take a peek inside a replica of SpongeBob's pineapple house and peruse the plethora of plush toys, squeezable playthings, apparel, and more. It's like being in Bikini Bottom without having to hold your breath.
Hollywood
Stroll down Hollywood Boulevard while checking out the the authentic California architecture.
There are no big rides here but two great shows to enjoy.
Attractions
The Bourne Stuntacular (Show with Video) – Through a cutting-edge fusion of stagecraft and film, you follow Jason Bourne as he outruns sinister characters hoping to bring him in. He dangles from a helicopter in Dubai. He's chased across rooftops in Tangier and by motorcycle through Virginia. There are fistfights, shootouts and danger at every turn.
Universal Orlando's Horror Make-Up Show (Show) – In this live show you'll watch how top make-up and special effects artists craft some of the creepy characters you've seen on the big screen. Featuring movie clips, props, and interactive demonstrations, this experience offers fascinatingly funny insight into the moviemaking process.
Characters
Look for street appearances of Hollywood favorites Marilyn Monroe, Betty Boop, the gang from Scooby Doo, and Gru and the girls.
Kids Areas
None.
Dining
Central Park Crepes Counter Service $ S – This is one of a very few good fast-food locations at Universal Studios Resort. Enjoy sweet or savory Crepes: lemon blueberry, strawberry hazelnut, chicken & goat cheese, smoked brisket, vegan sausage. I LOVED the Brisket! 
Mel's Drive-In – Counter Service $ LD (MO) – Burgers and fries, chicken sandwiches, chicken fingers, onion rings, root beer floats and milkshakes.
Schwab's Pharmacy – Counter Service $ S – milkshakes, banana splits, and more in a charming vintage-inspired shop proudly serving Häagen-Dazs ice cream.
Today Cafe – Counter Service $ BLD (MO) – Enjoy baked goods, freshly prepared salads, tasty sandwiches and specialty coffees in a setting that feels like you're on the TODAY set. Plus, try seasonal dishes inspired by a TODAY personality.
Shopping
Brown Derby Hat Shop – Shop classic fedoras, baseball caps, and more, including cartoon character heads. Don't forget to look up and admire all the hat-wearing celebs whose portraits encircle the room.
The Dark Room – Step into the worlds of some of your favorite Universal characters and get photos in front of a green screen at two photobooths, each with four different immersive backgrounds (not all include characters). To activate, scan your My Universal Photos card or purchase at the register.
On Location – Hats, sunglasses, and sun care products. If you had your picture snapped around the park by My Universal Photos photographers (separate purchase required), the shop also serves as a photo pick-up location.
Williams of Hollywood – Snag a piece of theme park history at this fascinating Hollywood Boulevard store. Packed with vintage curiosities, set pieces used in the parks, and more. Restocked often, there are always new treasures to discover.
Universal Studios Entertainment
Parades
Universal's Superstar Parade – With Nickelodeon's "SpongeBob SquarePants," Dora and Diego. Rock out with Gru, Agnes, Margo, Edith and the Minions from Illumination's Despicable Me and The Secret Life of Pets.
Nighttime Shows
Universal Orlando's Cinematic Celebration – This epic show lights up select nights with a celebration of music, water and light that takes you into the movies like never before. You'll see and hear roaring dinosaurs from Jurassic World, feel the adrenaline rush of high-speed cars from Fast & Furious, watch the mischievous antics of the Minions from Illumination's Despicable Me, and so much more.
Final thoughts on Universal Studios
Universal Studios Park goes back to the beginning in Florida. It predates everything else on property and has evolved greatly over the years.
My first visit was sometime in the 90s. The contents of park of today is almost totally different than back then, the ET Adventure is the only opening day attraction left!
Lombard's Seafood Grille (especially0 And Finnegan's Bar & Grill are well worth the time if you have it.
Surprisingly, you'll fine many more places to pause, sit, and have an adult beverage in comfort vs walking that you will at Island's of Adventure.
Universal Studios Resort flagship park has a lot to offer!
Be sure to check out:
What to Wear in Universal's Parks (external Link)
How Big is Universal Studios? (external Link)
Over To You
Let me know what you think of Universal Studios in the comments below! If you have a question, feel free to ask!
---
Planning a Universal Orlando Trip? Want to get the best military discounts that are available? Feeling a little confused? Get Our Email Newsletter
Want to get the lowest price on your Universal Orlando Resort Hotel? Contact Our Recommended Military Specializing Travel Agent 

---